Held Captive in a Pandemic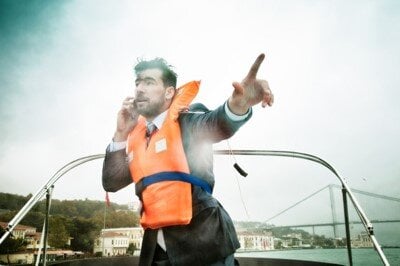 Take yourself back to December 31, 2019, there is excitement and hope throughout the world for the upcoming year. The possibilities seem endless. There are investments to make, businesses to expand and goals to conquer. Nothing can stop your pursuit of achievement…
Well, almost nothing. Suddenly, in the early months of 2020, we are faced with the challenges of COVID-19 and the world is forever changed. Governors across the country issued executive orders mandating all nonessential businesses to close in-office personnel functions and banning all nonessential gatherings of individuals.
While some businesses may be able to function while their employees work remotely, what about those nonessential businesses that can't, such as restaurants, hotels and certain retail stores? How can entrepreneurs remain solvent and meet financial obligations when they are not allowed to open their businesses?
It was at this moment that many entrepreneurs remembered the premiums they paid to an insurance company for a general liability and/or property insurance policy. Some, or in our experience most, probably never read these policies. I am quite certain that my father, an entrepreneur for over forty years, never even saw his policies. But there was an understanding that if something awful happened, you had insurance. It was there to protect your business in the worst-case scenario. Hopefully it would never be needed, but if it was it would protect your business from financial ruin. Why else would you send your hard-earned money to an insurance company every year for nothing but a promise in return?
At least that's what many thought when they desperately reviewed their policies to see if a government-mandated shutdown would be an insured event. And, there was reason for hope, as some general liability and property insurance policies have business interruption bundled in the policies. Business interruption provides coverage for lost income due to a civil authority shutdown, which, while the frequency of such an event is expected to be low, the severity could be catastrophic. Unfortunately for most entrepreneurs, however, even though governors across the country mandated that nonessential businesses close, insurance companies claimed that a pandemic is excluded from coverage and denied claims. Imagine, paying an insurance company a premium for decades, totaling in the hundreds of thousands or even millions of dollars, only to be told that in your time of dire need, you aren't insured because a pandemic is one of the exclusions buried in the policy.
Even those who legitimately claim that their business interruption coverage insures this precise event, like world-renowned chef Thomas Keller, are being denied coverage. Numerous lawsuits have been filed against insurance companies seeking compensation for lost income due to the pandemic, but they could take years to resolve, and will likely result in substantial legal fees.
If, instead of paying a commercial carrier those significant premiums, a business owner owned a captive insurance company, their business interruption coverage could have been tailored specifically to cover pandemics, which is one of the many benefits of a captive insurance company. A captive insurance company is formed to insure the risks of the entrepreneur's business and is owned by the entrepreneur and/or family. The primary benefit of a captive insurance company is the ability to pay yourself premiums, and issue custom or manuscript insurance policies to the entrepreneur's business that are either not offered through the regular commercial insurance industry or are cost-prohibitive. Other benefits of captive insurance companies are substantial, and include the following:
Lowering an insured's premiums on commercial insurance policies by raising deductibles. The increased deductible would then be insured by the captive insurance company.
Saving money by transferring certain lines of insurance with a history of minimal claims from a commercial insurance company to a captive insurance company (e.g., if a business has an Employment Practices Liability Insurance policy but has not had a claim in the past 5 years, it may be worthwhile transferring that coverage to the captive insurance company in order to keep the profit).
Premiums paid to a captive insurance company are tax deductible (just like premiums paid to a commercial insurance company).
A captive insurance company can participate in a risk distribution pool and have a significant portion of its losses reimbursed by other participating captive insurance companies.
As previously mentioned, a captive insurance company is an entity that you own. If claims are low in a given year, your business deducts the premiums and your captive insurance company keeps the profit rather than a commercial insurance company.

While a complete discussion of captive insurance companies is not possible in this article, a captive insurance company can be a powerful vehicle to provide coverage from catastrophic events that insurance companies do not historically insure. Remember, insurance companies have reams of data on the insurance policies that they offer. The exclusions in those policies are there to protect the insurance companies, not the businesses being insured.
The pandemic has reminded us that life is unpredictable or, as we say at the firm, "LIFE HAPPENS". It is time to review your current insurance policies to see if you are prepared, or whether you should consider adding a new layer of protection to your business by supplementing them with custom policies underwritten by a captive insurance company. To further discuss how a captive insurance company can protect your business, and be your next business, please call Pierro, Connor & Strauss at 1-866-951-PLAN for a free consultation.
https://www.pierrolaw.com/wp-content/uploads/2021/02/LiftJacketman.jpg
266
400
Darrin Williams
https://www.pierrolaw.com/wp-content/uploads/2021/01/pierrolaw-color-logo-transparent-300x132.png
Darrin Williams
2020-08-20 19:31:00
2021-03-22 13:54:48
Held Captive in a Pandemic