"Age Wise" Series on WMHT / PBS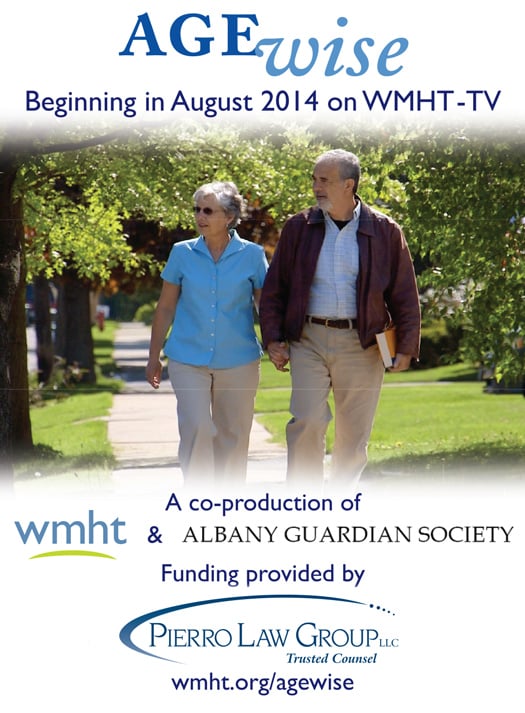 The Pierro Law Group is proud to be a sponsor of this year's WMHT / PBS series "Age Wise" that takes a realistic and optimistic look at aging.
The first episode, "Where We Live", explores housing choices that can benefit older adults as they age, and help them find the best option. There will be an encore airing on Sunday, August 31st at 1:00pm.
Where we live in our later years is a personal and important decision, which is influenced by the vast array of options available in our market. From retirement communities; to age 55+ active senior apartments; to small-scale urban living and subsidized senior housing; to remaining in your own home; each option has benefits and pitfalls which must be considered. Ask seniors where they want to live and most will tell you they want to age in place, but which is the best choice for you and your loved ones?

Watch the Where We Live Episode (WMHT Video)
Other topics covered in the Age Wise series include:
Aging In Place – What does it mean to age in place? What are older adults doing to ensure that they are living where they want to be? Airing September 23rd at 7:30 pm. 
 
Caregiving – Learn how the role of the caregiver has expanded and how people are managing the stresses and experiencing the joys of caring for a loved one. Coming in October. 
 
End of Life – The expansion of Hospice and Palliative Care programs give people greater opportunity to exercise control over their later years. What are the legal and ethical conversations necessary to inform and enlighten a population more comfortable with death than ever before? Coming in November. 
 
Aging in Our Communities – Taped on location across New York State, this episode will provide viewers with a current "on the ground" assessment of how people are aging well, aging wise. Coming in December. 
 
More information about the program at www.wmht.org/agewise
 
For a personal consultation on these and other planning options, call the Pierro Law Group at 866-951-PLAN. We are focused on helping you and your loved ones plan for aging.
https://www.pierrolaw.com/wp-content/uploads/2021/01/pierrolaw-color-logo-transparent-300x132.png
0
0
Darrin Williams
https://www.pierrolaw.com/wp-content/uploads/2021/01/pierrolaw-color-logo-transparent-300x132.png
Darrin Williams
2014-08-25 21:22:00
2023-10-27 15:23:25
"Age Wise" Series on WMHT / PBS